Sweet Pea's Story
by Kassie Graham | Media Releases | June 8, 2023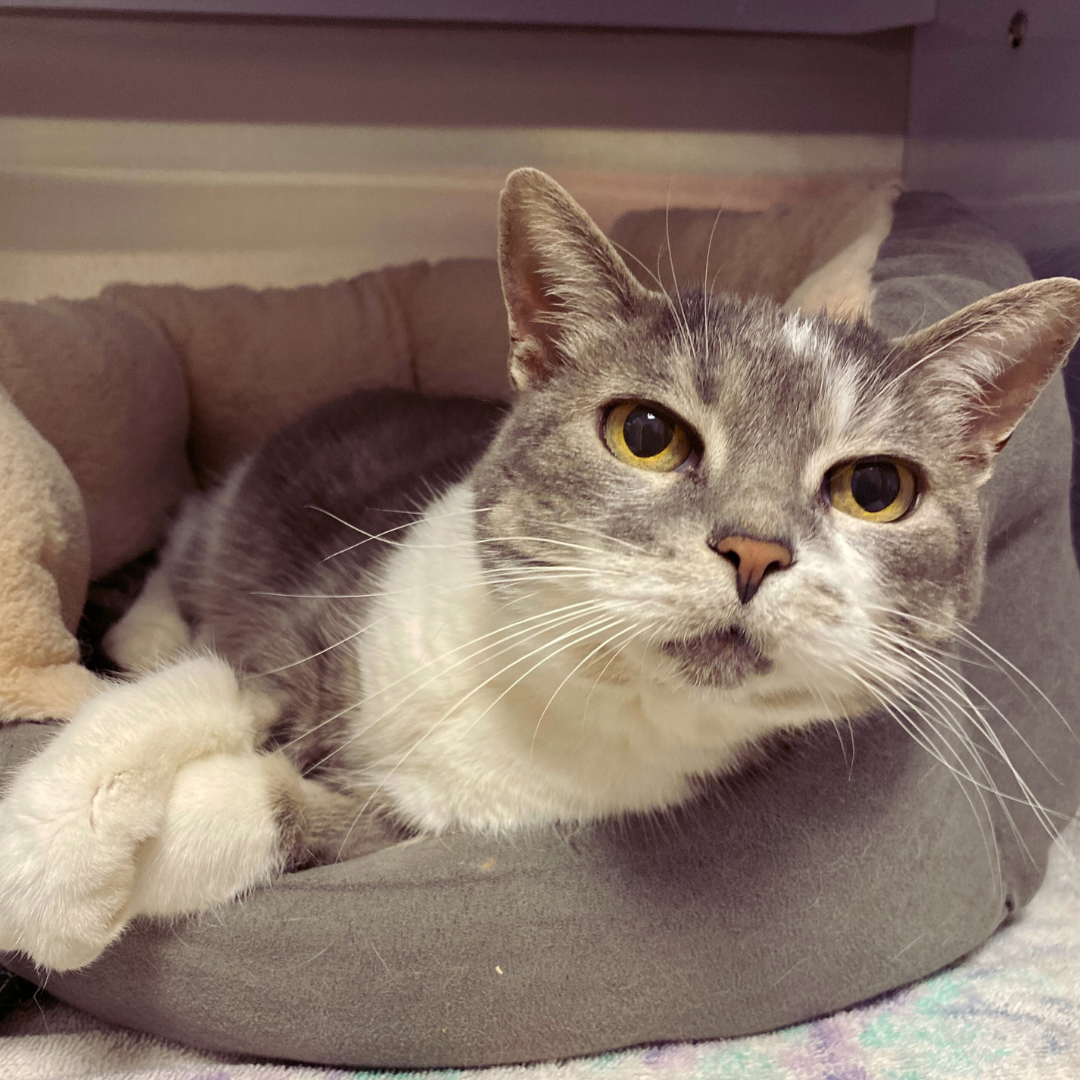 Meet Sweet Pea!
Sweet Pea is a 6-year-old girl who came to us after her owner could no longer care for her. During her intake exam it was apparent her mouth was quite painful, and she had trouble eating kibble. Our veterinarian diagnosed her with a condition called stomatitis. To make sure she lives a happy and healthy life, we decided to send her to one of our veterinarian partners for treatment. This expense was high, but well worth it for little Sweet Pea!
Stomatitis in cats is a painful disease that causes severe inflammation of the gingiva (gum tissue around the teeth) and can affect up to 10% of cats.
The cause of stomatitis in cats is unknown. It's most likely an exaggerated response to bacteria and plaque on the teeth. Severe inflammation of the gingiva along with severe inflammation of the inside of the cheeks and the back of the mouth is usually diagnostic for stomatitis. Many patients also experience tooth resorption and inflammation of the bone around the teeth at the same time.
Successful treatment of feline stomatitis requires minimizing bacteria in the cat's mouth as much as possible. This is rarely achieved through at-home dental care or anesthetized cleanings alone, as even a small amount of bacteria or plaque can be seen in cats with severe stomatitis. The current recommended treatment is partial or full-mouth tooth extraction surgery. While this may seem to be a drastic measure, it is currently the best way to achieve substantial and long-term comfort for affected cats. This can be an extensive surgery, and can cost anywhere from $2000-$4000.
Studies have shown that 90% of cats that undergo partial or full-mouth tooth extractions have shown complete resolution of their symptoms. Once the gum tissue has healed, many cats are willing and able to eat kibble again. And cat owners often see a quick improvement in their cat's attitude, appetite, and quality of life once their mouth is free from the pain and inflammation of stomatitis.
Please consider donating to our Milo Fund to help animals like Sweet Pea get the surgeries they need. We can't do it without you!
---
About the Peterborough Humane Society
The Peterborough Humane Society (PHS) is a registered charity that advocates for animals by rescuing lost, stray and homeless pets throughout Peterborough County. It is an Open Admission for Life Centre and the largest animal shelter in Peterborough County. All animals in their care receive veterinary care, vaccinations and are microchipped, and spayed/neutered prior to being adopted. PHS does not receive any government or institutional funding for their operations and relies on generous donations from the community.
Sign up for news and updates