Reduced adoption fees make now the purr-fect time to welcome a feline from the Peterborough Humane Society into your family
by studioptbo-hs | Media Releases | October 12, 2016
IMMEDIATE RELEASE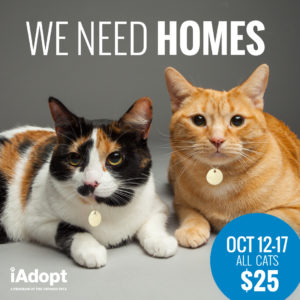 Peterborough, ON (October 12, 2016) – The Peterborough Humane Society will be taking part in an "iAdopt Urgent Appeal" adoption blitz until Oct. 17 to help find homes for the recent influx of cats and kittens in its care.
"We urgently need to find homes for the cats in our care," says Executive Director Andrew Fraser. "We are looking for the public's assistance to help us place cats into loving forever homes."
During this urgent appeal adoption blitz, ALL CATS AND KITTENS will be available for adoption for $25 each. All cats are spayed or neutered, microchipped, come with a gift of six weeks of pet insurance and are up to date with their vaccines. Kittens will be foster-to-adopt placements until they are old enough to be spayed or neutered at which time they can be officially adopted. The iAdopt Urgent Appeal will run from Wednesday, Oct. 12 to Monday, Oct. 17 with the goal of placing as many cats as possible into loving forever homes.
"If you are able to welcome a cat into your home, please adopt during our urgent appeal," says Andrew Fraser. "By adopting a cat now, you can help ensure space becomes available for other animals in need."
To learn more about our cats, visit cats available for adoption or stop by the shelter to view from 10:00am to 4:00pm Monday to Saturday.
##
Media Contact:
Brenda Boyes
Development and Outreach Manager
705.745.4722 x. 206
brenda.boyes@ptbohs.com
The Peterborough Humane Society
The Peterborough Humane Society advocates for the welfare of animals by improving their lives, alleviating suffering, rescuing, providing shelter, healing, facilitating adoption and reducing pet overpopulation.
Charitable Business Number 11925 1056 RR0001
Sign up for news and updates