Willow Wanna Go For a Walk?!
by studioptbo-hs | Media Releases | October 29, 2016
Willow Wanna Go For a Walk?! Local City of Peterborough Councillor, Diane Therrien, and her partner Phil, are the first lucky people to have found their forever match from the Big Trout Lake First Nation dog group, flown in to Peterborough on Oct 7th. Meet their newest inclusion to the family, Willow!
It was love at first sight when Diane saw Willow upon arriving at the Peterborough Airport on that fated day. Seen here with PHS Executive Director, Andrew Fraser, Willow was part of the large dog fly-in transfer. Having completed their temporary hold period here at PHS, Willow, along with 34 of her fellow travel mates from northern Ontario, are all getting readied to find their forever homes. Thanks to animal welfare partners such as Petsmart, Royal Canin, Loomex Group and the Peterborough Airport, the City of Peterborough, the Ontario SPCA, Big Trout Lake First Nation, Welland and District SPCA, North Bay and District Humane Society and the Thunder Bay and Dis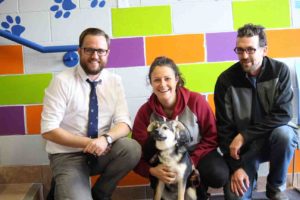 trict Humane Society, all 58 dogs total, will find their forever homes through various OSPCA and affiliate Humane Society centres.
As a result of these committed partners working together in animal welfare, and to endeavours such as mobile spay and neuter events supporting the more remote parts of our province, the positive impact made upon our companion animals and the communities they are such a valued part of, is being realized more than it ever has before.
A special thanks to North Star Air Ltd. for generously supplying the temporary wings these pups needed, to fly towards their new forever homes. As for the many volunteers, veterinarians, veterinary technicians and clinics who have supported these dogs, upon landing on Oct 7th right through until now, words cannot express enough what awe-inspiring contributions all of these amazing individuals have made.
On Monday, Oct. 31st, more of Willow's friends will be available for adoption through the PHS centre. Animal viewing begins at 10am and will be on a first come, first serve basis. Monday is also the launch of our iadopt for the Holidays adoption campaign, happening through all of Nov. and Dec. Let's show Willow and all other animals in need, just how much Peterborough loves them all, by considering adoption this holiday season.
Sign up for news and updates