Puppies flown into Peterborough now ready to find their forever homes
by studioptbo-hs | Media Releases | November 3, 2016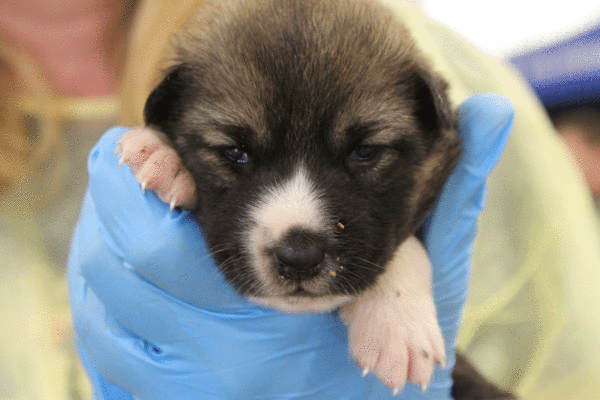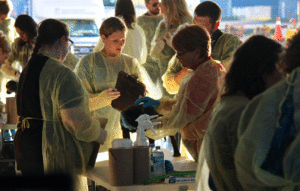 Puppies flown into Peterborough now ready to find their forever homes Peterborough, ON (October 27, 2016) – BUSINESS – A few weeks ago, a North Star Air Basler BT-67 carrying precious canine cargo arrived at the Peterborough Airport from a remote Northern Ontario community. Puppies from that dog transfer will be available for adoption on Monday, Oct. 31. Animal viewing begins at 10:00am; adoptions will be on a first come, first serve basis through the Peterborough Humane Society and on Wednesday, Nov. 2 at the Humane Society of Kawartha Lakes.
After being gathered in the community of Kitchenuhmaykoosib Inninuwug (Big Trout Lake), which is located about 500 kilometres north of Thunder Bay, 58 dogs made the close to fivehour journey aboard a North Star Air flight on Oct. 7. North Star Air has taken a key leadership role in the north to help address the pet overpopulation issue in remote fly-in only communities. Committed to playing an active role in making a positive difference within First Nation communities, the Thunder Bay-based airline partnered with the Ontario SPCA's Provincial Animal Transfer Team and Kitchenuhmaykoosib Inninuwug to assist with the transfer. The Provincial Animal Transfer Team was established by the Ontario SPCA and is made up of volunteers and organizations from all across Ontario, working to help move animals across the province to shelters where they can find new homes.
After North Star Air's yellow and black Basler BT-67 plane landed on the tarmac at the Peterborough Airport, the dogs were unloaded and brought into a hangar where they were triaged by a team of volunteers, including veterinarians and veterinary technicians.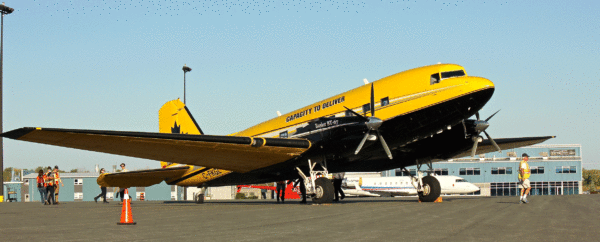 Once cleared for further transport, the dogs were brought to the Peterborough Humane Society, the North Bay & District Humane Society, the Welland & District Humane Society, the Sarnia & District Humane Society, the Humane Society of Kawartha Lakes and the Quinte Humane Society to be placed into their adoption programs. "It takes many partners to successfully transfer so many dogs, particularly when we're working with remote northern Ontario communities. North Star Air's support as our airline carrier was key and gave these puppies a second chance by giving them a temporary set of wings to find their forever homes," says Andrew Fraser, Executive Director of the Peterborough Humane Society. "One of our goals at North Star Air is helping the communities and people in the north," comments Mary-Ellen Thomas, Commercial, PR, Sales & Marketing of North Star Air Ltd. "There are many of our partner communities where the pet overpopulation presents a real problem. The Basler BT -7 is one of the perfect fits for this program as it has the room for the dogs to safely be transported out of the communities." Media Contact Andrew Fraser Peterborough Humane Society a.fraser@ptbohs.com (705) 745 4722 ext. 207 Mary-Ellen Thomas North Star Air Ltd. maryellen@northstarair.ca (807) 630-5126
Sign up for news and updates