Foxy's Story
by Kassie Graham | Media Releases | December 15, 2022
Meet Foxy!
On a typical September day, little did we know that a very special dog would come through our doors. A dog was brought in by a concerned citizen as a stray, and was placed into our care at the Peterborough Humane Society (PHS). When Foxy came into PHS it was apparent this young girl was special. Foxy is believed to have been born with a defect affecting her spine. A veterinary exam and X-rays found she is missing some vertebrae, giving her a shortened spine. This malformation of her spine does hinder her walking ability but definitely doesn't affect her bouncy personality.
Foxy has boundless energy, is full of life and will greet you with her adorable full-body wiggle that will make you smile. Although you can't tell from her attitude, her deformity does cause her difficulty because she has to overcompensate to walk. PHS staff knew she needed some special accommodations above and beyond the usual care required for our animals. And so, after much research and investigation it was determined that a custom wheelchair would be the best course of action to ensure the greatest quality of life for Foxy. However, this special accommodation and medical care is expensive; this is where supporters help save animals lives.
"Foxy is so energetic, and I don't think anyone ever told her she has a birth defect! This is her normal. It has not affected her desire to get up and get going at all. Long term her defect would cause issues such as arthritis, but giving her the proper spine support will help her function longer. This wheelchair will help with her mental health and quality of life, and will also help prevent further damage to her body. She will require ongoing medical care and rehabilitation; the commitment for this dog is beyond a wheelchair cart. Foxy will be with us at PHS until she gets used to using her new wheels. Once she's comfortable, Foxy will be ready to find a family who will be able to provide her with the unique care she needs. It is a lifetime commitment and relationship. But there is just something special about that dog!" Dr. Bruce
Many of the animals who enter our shelter require life-changing medical care before going up for adoption. However, the cost associated with providing that help adds up quickly. Our Milo Fund was developed to provide the extra care for animals that need it, allowing them to be adopted into loving new families. Thanks to our donors, Foxy will get a second chance to find her 'fur'ever home!
This giving season you can truly make an impact on the lives of animals in your community. From our Milo Fund, to the SNooPy (Safe Nights for Pets) program, or shelter supply needs; there are so many different ways your donation can help our furry friends.
This holiday season, consider giving.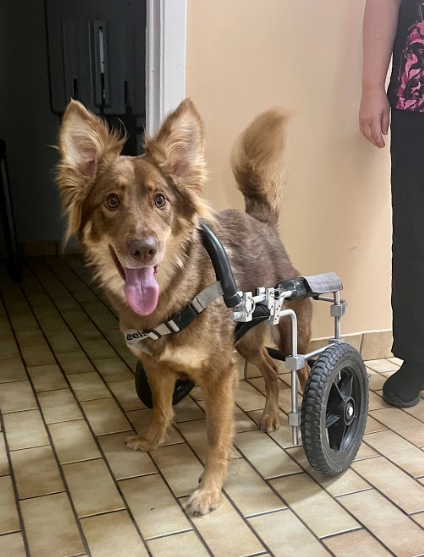 Update: December 2022
Foxy is now up for adoption and is looking for her furever home! She is being fit for her wheelchair cart and will receive it soon. This special girl will require a special home; we are very excited to help her find it.
Update: January 2023
Foxy has received her wheelchair cart! This cart will help with her mobility and will help prevent further damage to her body. We are very excited for this next step for Foxy and look forward to her finding her furever home.
---
About the Peterborough Humane Society
The Peterborough Humane Society (PHS) is a registered charity that advocates for animals by rescuing lost, stray and homeless pets throughout Peterborough County. It is an Open Admission for Life Centre and the largest animal shelter in Peterborough County. All animals in their care receive veterinary care, vaccinations and are microchipped, and spayed/neutered prior to being adopted. PHS does not receive any government or institutional funding for their operations and relies on generous donations from the community.
Sign up for news and updates