Peterborough Humane Society receives Strategic Priorities Infrastructure Funding from Province of Ontario
by Kassie Graham | Media Releases | April 21, 2023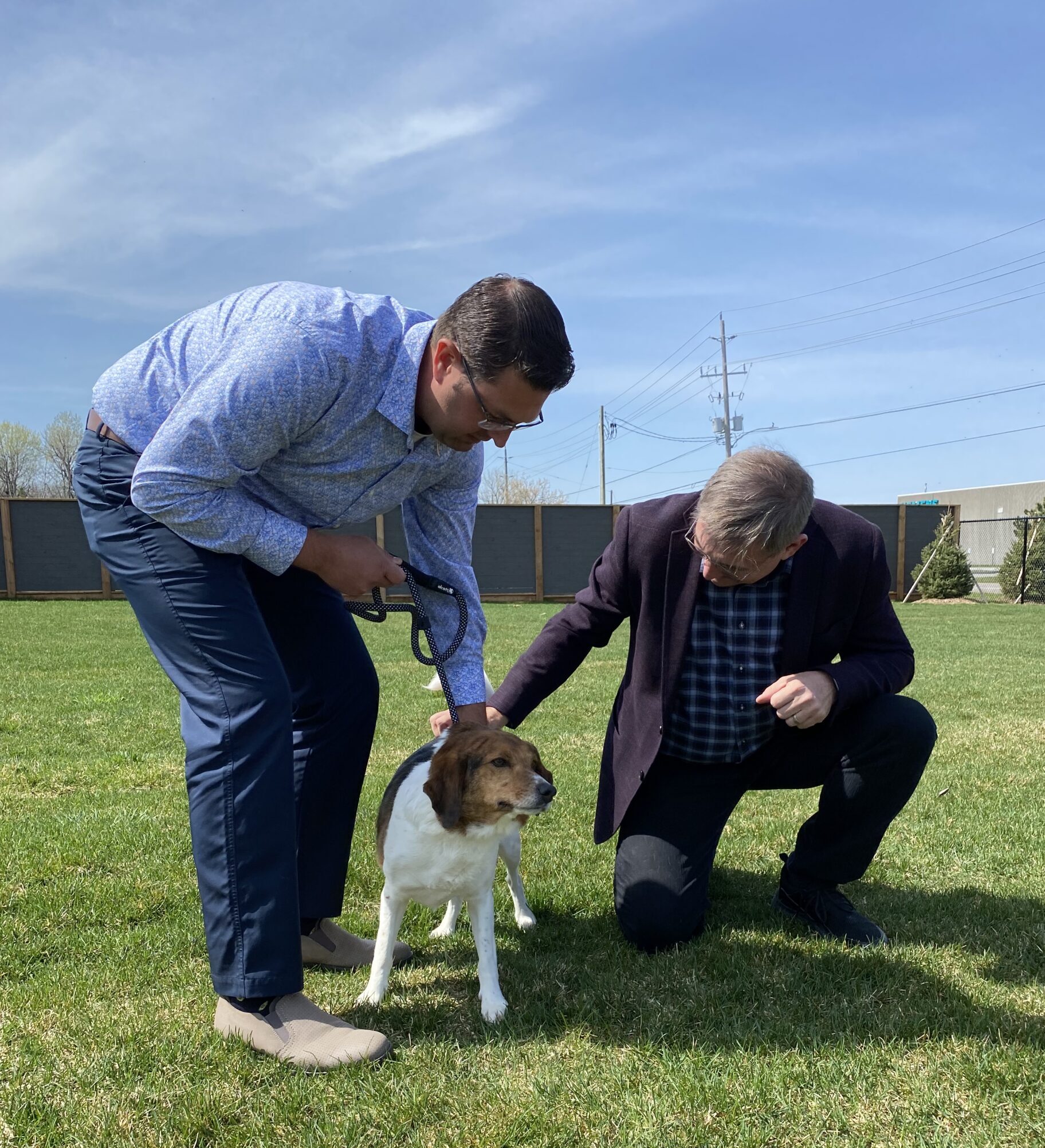 PETERBOROUGH, ON (April 21, 2023) – Announcement
The Minister of Infrastructure of the Province of Ontario has granted up to $1,560,500 in support of the Peterborough Humane Society's development of the new Peterborough Animal Care Centre (PACC).
The Government of Ontario developed the Strategic Priorities Infrastructure Fund (SPIF) to support, in part, large-scale new builds and expansions of community, culture and recreation infrastructure.
The project, 'Enhancement of Public Recreation Amenities' at the PACC, will support the community and region by providing accessible outdoor spaces that will support full community engagement, and use of the lands that can enhance nature and healthy activity. This funding will bring much needed community programs, services and amenities including a recreational trail system, accessible building signage for easy wayfinding, patio spaces for outdoor leisure and corporate event purposes. The development of these outdoor spaces will also support animal and community enrichment opportunities.
"The incredible support from our provincial government is instrumental in allowing us to achieve our programming and service goals through the completion of our new Centre. This funding will help us in developing a hub, not only for animals but also for our local, and regional community members to enjoy for generations to come. We are one step closer in making this Centre a premier destination for animal wellness." says Shawn Morey, Executive Director of the Peterborough Humane Society
The Peterborough Humane Society has been a staple in our community providing services for more than 80 years to people of Peterborough. I'm proud to say that the Government of Ontario has recognized the exceptional work that PHS does and has made this investment in new a state of the art facility in our community,' said MPP Smith. "I'm looking forward to 80 more years of alleviating suffering, rescuing, healing and facilitating the adoption of animals."
The Peterborough Animal Care Centre is now open at 1999 Technology Drive in Peterborough with a grand opening celebration scheduled for June 24, 2023. The centre features a state-of-the art Animal Adoption & Education Centre, Publicly Accessible Spay/Neuter Clinic and the Ontario SPCA and Humane Society Provincial Dog Rehabilitation Centre. Donations are still needed to reach the capital campaign goal. To learn how you can contribute, please visit ourpetproject.ca
---
Media Contact:
Kassie Graham, Marketing & Communications Coordinator
Peterborough Humane Society
k.graham@ptbohs.com | Cell: 705.872.1648
About Our Pet Project
Our Pet Project is the capital campaign for the new Peterborough Animal Care Centre (PACC). A Canadian First, this innovative Centre hosts three programs under one roof. A publicly accessible Spay and Neuter Clinic, an Education and Adoption Centre and a leading-edge Dog Rehabilitation Centre in partnership with the Ontario SPCA & Humane Society. The Centre is now open with a grand opening event planned for June 24, 2023.
About the Peterborough Humane Society
The Peterborough Humane Society (PHS) is a registered charity that advocates for animals by rescuing lost, stray and homeless pets throughout Peterborough County. It is an Open Admission for Life Centre and the largest animal shelter in Peterborough County. All animals in their care receive veterinary care, vaccinations and are microchipped, and spayed/neutered prior to being adopted. PHS does not receive any government or institutional funding for their operations and relies on generous donations from the community.
Sign up for news and updates