Varcroft & Bianco builds kitchens for the Peterborough Animal Care Centre
by Kassie Graham | Media Releases | December 20, 2022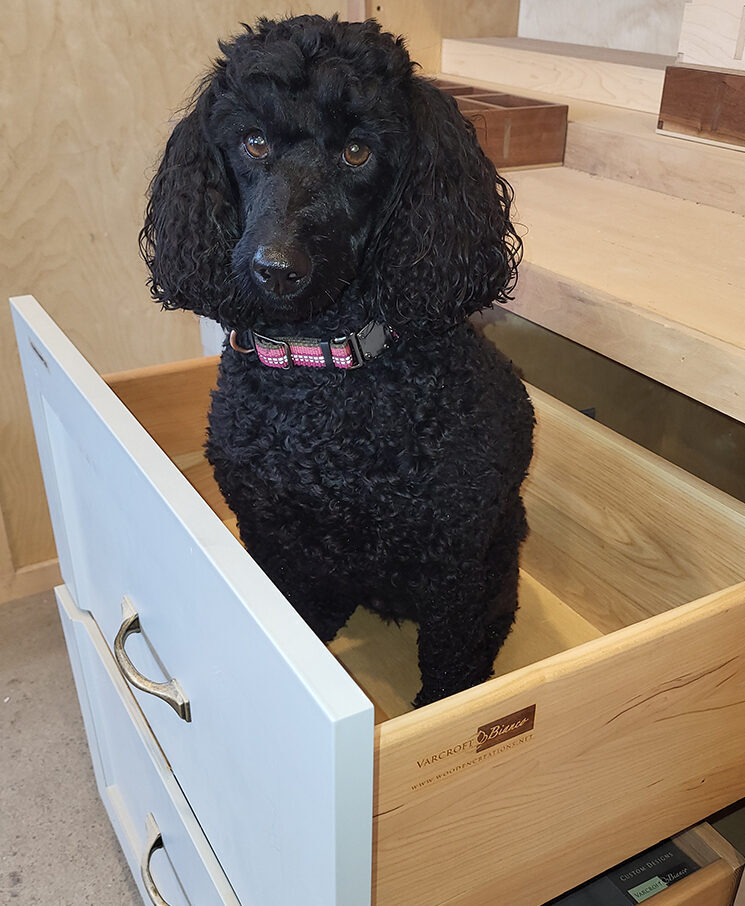 PETERBOROUGH, ON (December 21, 2022) – Announcement
The Peterborough Humane Society (PHS) has received a generous in-kind donation from Varcroft & Bianco. The cabinet maker has hand crafted the kitchens in both the staff office space and the Spay & Neuter clinic at the Peterborough Humane Society's Peterborough Animal Care Centre (PACC) at 1999 Technology Drive.
"Varcroft & Bianco is proud to be part of the new Centre and happy to be donating the staff kitchens for the space. Everyone at our shop has pets and understands the important role the Peterborough Humane Society plays in the health and well-being of the animals in our community. We thought we could use our expertise and manufacturing facility to help out where we can with what we do best." says Brad Bates, Varcroft & Bianco.
"We are extremely grateful for the outpouring of resources and support our community has put into this new Centre. Varcroft & Bianco were very generous to not only donate the custom-made cabinetry, but also to put their incredible talent and efforts into the space through the design, build and installation. These kitchens will service our staff, community members, as well as organizations that will utilize our Humane Education & Multipurpose Room, which will be available to the public for rentals." shared Shawn Morey, Executive Director at PHS.
In recognition of this generous gift valued at approximately $25,000, Varcroft & Bianco will be identified as a community partner within our new building.
The Peterborough Animal Care Centre will be over 24,000 square feet and include a state-of-the art Animal Adoption & Education Centre, Publicly Accessible & High-Volume Spay/Neuter Clinic and a Provincial Dog Rehabilitation Centre. Plans for completion and occupancy of the new Centre are targeted for early 2023.
---
Media Contact:
Kassie Graham, Marketing & Communications Coordinator
Peterborough Humane Society
k.graham@ptbohs.com | Cell: 705.872.1648
About Our Pet Project
Our Pet Project is the capital campaign for the new Peterborough Animal Care Centre (PACC). A Canadian First, this innovative Centre will host three programs under one roof. A publicly accessible Spay and Neuter Clinic, an Education and Adoption Centre and a leading-edge Dog Rehabilitation Centre in partnership with the Ontario SPCA & Humane Society. Construction is underway at 1999 Technology Drive, with plans for completion and occupancy targeted for early 2023.
About the Peterborough Humane Society
The Peterborough Humane Society (PHS) is a registered charity that advocates for animals by rescuing lost, stray and homeless pets throughout Peterborough County. It is an Open Admission for Life Centre and the largest animal shelter in Peterborough County. All animals in their care receive veterinary care, vaccinations and are microchipped, and spayed/neutered prior to being adopted. PHS does not receive any government or institutional funding for their operations and relies on generous donations from the community.
About Varcroft & Bianco
Varcroft & Bianco is a local wood manufacturing company who has been producing custom kitchens, entry doors and other millwork for over 20 years. They are a technology driven shop and have several websites that allow customers to buy custom made products direct from the manufacturer. Customers can check them out at www.readytopaintcabinetdoors.com, www.drawerinsertdesigner.com and www.customwoodendoors.ca. In 2023 they plan on launching a site that allows customers to specify and order their entire custom kitchen online. If you are interested in discussing a project please contact them at admin@varcroftbianco.com or 705-652-3520.
Sign up for news and updates